General FAQ
How do I measure wardrobe doors?
---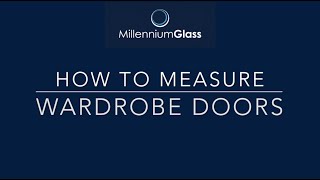 For DIY measurements, we recommend that you watch this video where you can learn how to accurately measure wardrobe doors with this guide from one of our Millennium Glass experts. However, if you are still unsure your measurements, we can come to your location and measure for a call out fee.
---
Do you offer free measurements and quotes?
---
Yes! We will send out our professionals to provide obligation-free measurements and quotes. If you can measure yourself however, we can supply quotes fast over the phone for any of our standard products.
---
What is your turnaround time?
---
From the time you contact us, our professionals will visit within 24 hours to measure the job and provide a quote. Once a deposit is paid and your glass is ordered, we can manufacture and install your product within 5-10 working days.
---
What colour metal do you supply?
---
We supply a wide range of metal colour options for our wardrobe doors. If you are looking for another colour option, contact us and we may be able to help you.
---
What colour glass do you supply?
---
For our superwhite wardrobe doors, we can supply any colour from the Dulux colour range you can find [here].
---
---